Chamblee is "Getting Ready to Rock" With a New Guitar Class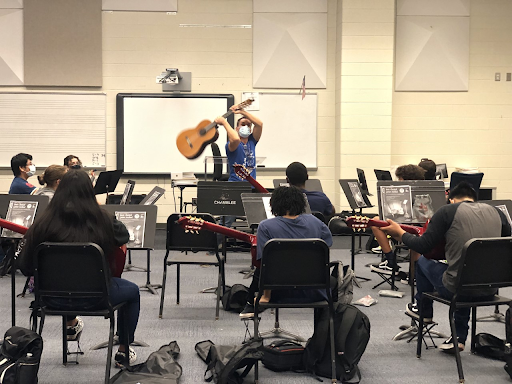 After what could be described by some as the longest year in human history, Chamblee is finally beginning to return to the method of schooling that many people know and love. Accompanying this return are a few new changes. Among these changes comes a brand new class, created just for beginner musicians.
In the past, students who wanted to join a music class have been expected to have at least some previous music experience. This year, Phillip Barnard, the Chamblee High School orchestra director, decided to change that.
"It's kind of a funny story. Mr. Hall, and a couple of other [teachers], we were talking about the ninth-grade electives and the choices being relatively limited for ninth graders coming in," said Barnard. "We all know that so much of our day is spent here at school studying an academic subject and sometimes you just need a creative outlet. So, I was saying it's a shame that for a student who has not studied music before in any in-depth way, that we don't have an opportunity for that kid to take a music class where they can create, and they can perform, and they can get into a little bit of their feels if you will."
Barnard says that the idea for a guitar class came to him when he made an "offhand comment" during a conversation with other members of the school faculty.
"So, I said [that] I could teach a guitar class and Mr. Hall's eyes got all wide. He said, 'are you serious? You would be willing to do that?' I said 'absolutely.' I would love to be able to give a kid that opportunity, a kid that's not ever been involved in anything outside of just coming to school each day, and going to their seven classes, and then getting on the bus and going home. So, we set up the guitar class for students who have no experience." said Barnard.
Funding, of course, is one of the most important aspects of any new class. When it comes to the new guitar class, the administration was more than willing to provide sufficient funds for the necessary guitar equipment.
"The most important funding is paying for a teacher to teach any class, so that's already happening. I've already got a full-time job as the orchestra director," said Barnard. "The funding beyond that is the materials for the class. The administration graciously paid for a set of class guitars. So we have a [guitar] for each student along with all the necessary accessories that they come with: the guitar case, tuner, extra sets of strings. Then, of course, the materials that we use, the sheet music, the books that we're going to learn out of, so having the administration's generous support there was huge."
Although the original idea for the class came from a conversation surrounding incoming ninth graders, the class is diverse when it comes to age.
"I would say that it's maybe half freshmen and then the other half is a mix of 10th, 11th to 12th graders," said Barnard.
Despite the age range, each student is starting from the same place in their musical adventure.
"It's funny because every kid is a beginner in this class, every kid is trying this for the very first time," said Barnard. "It sort of levels the playing field a little bit, you know? I'm sitting here looking at all of these kids who are 9th and 10th and 11th and 12th graders. And I don't see 9th, 10th, 11th, and 12th graders. I see these baby musicians who are all about to start this amazing journey."
Barnard is planning on challenging his students this year by organizing public performances, at which they will showcase their abilities.
"We are going to do two public performances this year, one in the fall and one in the spring towards the end of each term," said Barnard. "We'll probably [also] do some fun stuff around the school because the guitar class meets during first period. I might have the kids come early, we'll get our guitars out and we'll stand in the plaza at the beginning of school as kids are coming in and play a tune or two."
In addition to offering a wide variety of music styles for the students to learn this year, Barnard plans on letting the new musicians discover what styles of music they enjoy the most.
"That's why we're doing [this class], so that the kid who wants to play K-pop on their guitar, they can, or the kid that wants to play R&B or soul can do that, the kid that wants to play eighties, big hair, rock band, they can do that," said Barnard.
Barnard's passion for his students' love of music clearly translates into his teaching, and his students appreciate his non-judgemental and open attitude.
"I think he is a great teacher," said Miguel Cuervo ('22), a senior in the guitar class. "He is nice to everyone, he tries to help everyone to improve and he doesn't judge anyone. I don't know anything about guitar and I'm liking the class."
Barnard hopes that for his students, guitar isn't just a new fixation, but rather the beginning of their musical journey.
"Human beings have a tendency to sit down and obsess over things. So here's this new shiny guitar. I'm going to sit down and practice for four and a half hours until my fingers are bloody. And then I want to do it again the next day and the next day and the next day. And then a month later, you're practicing once a week for five minutes," said Barnard. "So you should pace yourself, practice for, say, 30 minutes every other day. And then suddenly a month later, instead of not touching your guitar anymore, you're still practicing 30 minutes every other day. Don't overdo it at the beginning because the newness will wear off too soon, and you won't still be in love with it a month later."